---
YONG LONG SECURITY GUARD CO.,LTD
永隆保安公司
Company profile
---
YONG LONG SECURITY GUARD CO.,LTD is approved by the municipal public security department and approved by the Provincial Public Security Department. It was officially registered on August 19, 2015. It is a professional security company that legally operates security guards such as guards, patrols, guardians, and regional order maintenance. . Yonglong company is located in 3F, No.88, Caimao Road, Zhoushi Town, Kunshan City, Suzhou. It has nearly 1,000 square meters of training and training venues and covers an office building of 500 square meters. The unique office conditions are the company's development. The basis, and professional civil air defense, technical defense and strong financial support. YONG LONG has a team of more than 10 years of experience in the security industry with extensive experience in security and security management. He has been engaged in security and security management since the 1990s. YONG LONG relies on professional security services and talented security team. Its security area covers all towns in Suzhou, with more than 30 guard points and more than 600 security personnel. The service area is more across Suzhou, Kunshan, Taicang, Zhangjiagang, Changshu and Wujiang. The quality of service has been well received by new and old customers, especially security services: customer satisfaction rate of 98%, contract renewal rate of more than 96%.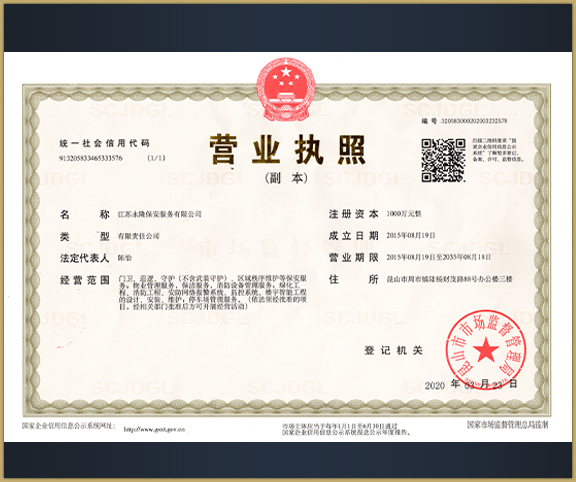 Corporate purposes
The brilliant achievements are based on the company's consistent service tenet of "sustainable management, merit and prosperity". It is to hope to bring a safe and peaceful life to the public, and to actively develop one's own strength, to promote social mutual assistance, and to make the environment full of human warmth. The company respects the enterprise spirit of "practical, hardworking, and responsible", and creates a good corporate environment with integrity, win-win, and business philosophy. With high-quality service, reliable reputation and strict management, it provides strong guarantee for many enterprises. Security guard service. With a new management model, perfect technology, considerate service and excellent quality, we always adhere to the customer first, serve the customers with care, and insist on using our own services to impress customers.
---
Corporate policy
In accordance with the principle of high starting point, high standard and high efficiency, the company adheres to the development path of group, intelligence and specialization, and establishes a new image of modern security enterprise with the service concept of perfection and sincerity; Jiangsu Yonglong Security Service Co., Ltd management The personnel are mainly from the re-commissioning officers of the troops and the university graduates with relevant work experience. Most of the management cadres have worked in the industry for many years, with rich management experience and positive pioneering spirit; the employees are mainly from 13 provinces and municipalities in China. School graduates, veterans and excellent labor recommended by the local human resources department.